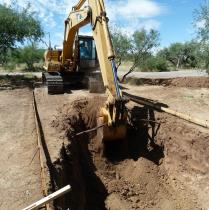 I am so pleased with the system and anticipate the need for another cistern or 2 when I get the hang of the fill/empty/fill cycles!  All of the people who were here to set up the system were wonderful. I will almost miss seeing them!!  Best of luck with converting more Tucson folks to the joy of rainwater harvesting.  Any time you want to show this system or have me give a reference, just let me know.

Marsha Irwin

Tucson, Arizona

"That first meeting, when you came to the house, I could sense your enthusiasm and energy, and thought, here's the guy that can help me turn a pretty rough concept into reality.  Well you certainly did that and far beyond my expectations."

Mike Magras

Sahuarita, Arizona

"I have known Mark for over 20 years.  He is a man of integrity and quality work"

Dr. Paul Horwitz

Tucson, Arizona

"I built my first project with Mark almost 35 years ago.  He has always taken care of me and my customers."

Gordon Earhart

Earhart Equipment

"Mark installed my 10,000 gallon cistern.  He and his team did a great job." 

Mai Schaefer-Ho

Tucson, Arizona

This page was last updated: April 19, 2020